"I will live this day as if it were my last."
I had a problem getting the message from this chapter of Og Mandino's book.  All I could think of is that if this is my last day, I will surround myself with family and friends and make the most of today.  I certainly would not be thinking of work!  I must really be a slow learner, because I have been reading this chapter for 25 days and the message is finally clear, at least my interpretation of it is clear.
"I will waste not moment mourning, yesterday's misfortunes, yesterday's defeats, yesterday's aches of the heart, for why should I throw good after bad."
If this is indeed my last day, what does it matter what happened yesterday.  Who cares if someone hurt my feelings yesterday?  Does it really matter whether or not I completed all my chores or assignments?  Perhaps I didn't follow my healthy diet. Yesterday is gone and I don't have to worry or think about it anymore.  Thinking of what coulda, or shoulda been done is nothing but a waste of precious time today.
And then we come to tomorrow.
"Should I concern myself over events which I may never witness?  Should I torment myself with problems that may never come to pass? No!  Tomorrow lies buried with yesterday, and I will
think of it no more."
Worrying about what might happen tomorrow is another waste of precious time today.  If today were my last day would I really care what someone might or might not do?  Does it really matter if it snows tomorrow?  Do I have any control over those events today?
Then there is another side of tomorrow, those things we put off doing today thinking that we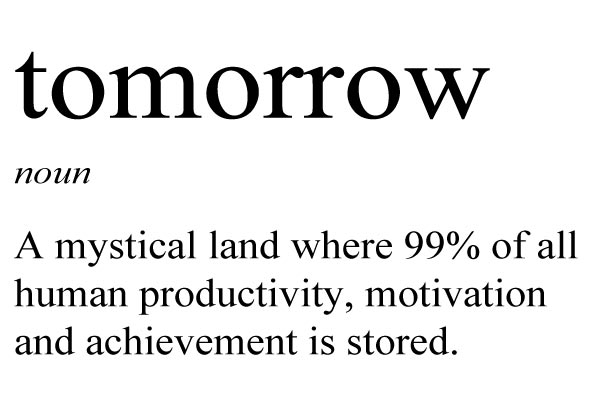 will do it tomorrow.  Sometimes tomorrow doesn't come and things keep getting put off.  All that does is cause me more stress because then I am even more behind in things than I was today.  Do not put off for tomorrow that which we can do today.
"And if is my last, it will be my greatest monument.  This day I will make the best day of my life.  This day I will drink every minute to its full.  I will savor its taste and give thanks.  I will maketh every hour count and each minute I will trade only for something of value.
The message I now have is that I should make today one of the best days ever.  I will work on accomplishing more things than ever before.  I will be kinder to others.  I will show more love to family and friends.  I will make the phone calls I need to make in order to make my business grow.  I will learn all I need to know to help me in my day-to-day activities.
"I will live this day as if it is my last.
And if it is not, I shall fall to my knees and give thanks."
Of course we all know that for me this is all a work in progress.  I think Bobby McFerrin sums it up best.  Perhaps this should be part of our mental diet.